Top Upcoming Health & Fitness Events in Hendricks County
Posted by Paula Henry on Sunday, April 30, 2017 at 6:15 PM
By Paula Henry / April 30, 2017
Comment
Throughout Hendricks County, residents have plenty of opportunities for exercise. Whether health and fitness is your passion or you're just getting into it, enjoying an event with a healthy focus can be quite a bit of fun.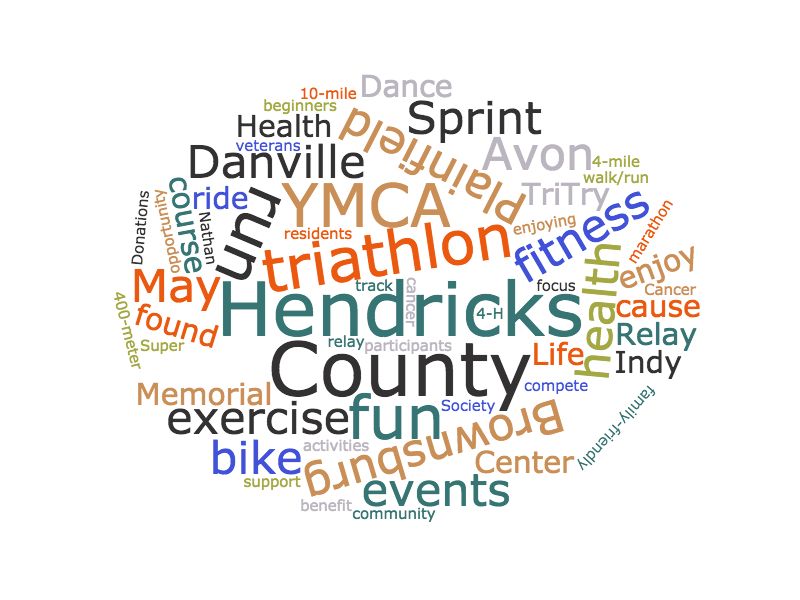 Hendricks County offers several events focused on health and fitness throughout the year. Here are four of the top upcoming options you can enjoy.
Try Tri Indy
A triathlon found early in the season, this one is great for beginners and veterans. Two different events will be offered, which are:
Super Sprint - 200-meter swim, 10-mile bike ride and 2-mile run
Long Sprint - 400-meter swim, 20-mile bike ride and 4-mile run
The event will be held on May 7th at the Brownsburg Aquatic Center. The aquatic center is found in the Brownsburg High School at 1000 South Odell Street.
The run course is very flat, while the bike course will take you through areas with very little traffic. Those in the Long Sprint will start at 8am and the Short Sprint will start shortly after. Find out more information about the Try Tri Indy event here.
Hendricks Regional Health YMCA Dance Party
A unique event and great opportunity to get some exercise, the YMCA Dance Party will provide tons of fun. It will be held on May 12th from 6pm to 7pm and will include plenty of dance fitness instructors leading routines. The cost is $5, which will go towards the YMCA campaign to help families in the community. Donations for the Sheltering Wings Center for Women will also be accepted.
The Hendricks Regional Health YMCA will host the event. It's located at 301 Satori Parkway in Avon.
Inaugural Relay for Life
Get your relay team together to help the American Cancer Society. This fundraiser will provide plenty of fun for those participating. It will be held at the Hendricks Count 4-H Fairgrounds and Conference Complex on May 12th and 13th.
It's a marathon type of event and someone from your team needs to be on the track at all times. This is to signify that cancer doesn't sleep. The event will begin at 6pm on May 12th and run through 12pm on May 13th. Find out more about the Inaugural Relay for Life here.
NateWalk 5K Memorial Walk/Run
Donate to a great cause while getting some exercise at the NateWalk 5K Memorial Walk/Run. This event will include plenty of fun with food trucks on site, plenty of activities and so much more. It's a family-friendly event with participants of all ages.
The event will be held on May 21st from 11am to 2pm at the Avon Town Hall Park in Avon. The walk/run will start at 12pm and the proceeds will help benefit the Nathan Trapuzzano Memorial Foundation, which helps children who have lost a parent. Find out more about the event here.
There's always an event for those who enjoy health and fitness throughout Hendricks County. If you want to support a good cause or compete in a fitness event, these four events provide great choices in May 2017.